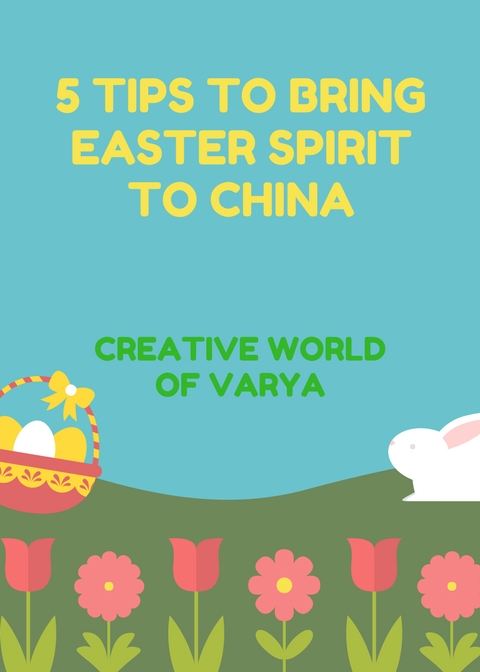 'Tis the season when some people around the world celebrate Eastern. If you are in China, you may or may not feel its spirit, so here are 5 tips on how to bring Easter Spirit to China and enjoy this special holiday.
1. Head to Taobao.com and input "Easter" into the search – you'll be amazed at how many things you will find!
2. Stock up on seasonal chocolate – most of the stores, especially the ones selling imported things, will have chocolate eggs and bunny shaped eggs. By the way, those, along with Christmas candy, can be found year long in some stores.
3. There are tons of craft related to Easter that you can use to make. For example, check out my Easter Egg and Easter Bunny crafts.
4. Easter Egg hunt is always a hit among expats and local friends alike! Along with making and decorating Paska bread and dyeing eggs. It is amazing how much you fun you can have while doing it all!
5. Prepare an Easter feast or organise a potluck with your friends – all the same fun and friendly atmosphere that will make you feel at home.
Easter is a commercial holiday in China and while it is not a public holiday, it is celebrated by some. Friends get together, some people go to church for a service on that day. Some malls have decorations in a form of big figurines of eggs, bunnies and chicks.
Most of kindergartens that offer foreign teacher classes put Easter theme in their curriculum and the whole week leading to it there are crafts, book reading, egg painting, and games going on. For example, my blogger friend Becky of Badmintonbecky.com makes Bunny Masks with her students.
With a little of effort, research, and creativity you can have yourself a beautiful and joyful Easter celebration in China!
If you live abroad, how do you keep Easter Spirit where you are?
Easter is approaching, and once again we are excited to take you on a tour of the world and how it celebrates Easter! Explore the diverse traditions of Easter with us, and don't miss our series from last year, or from 2016 or 2015. You also will enjoy this wonderful overview of global Easter traditions. Find these posts and more on our Easter Around the World Pinterest board:
Follow Multicultural Kid Blogs's board Easter Around the World on Pinterest.
March 12
Almost Indian Wife on Multicultural Kid Blogs:
Celebrating Easter Around the World
March 19
Crafty Moms Share: Easter in Bermuda
March 22
Crafty Moms Share: Easter in France
March 26
Pediatrician with a Passport: The Mysterious Origin of the American Easter Bunny
March 27
Let the Journey Begin: Why Do Germans Give Easter Gifts?
March 28
Creative World of Varya: 5 Tips to Bring Easter Spirit to China
March 29
Kori at Home