While being on the subject of drawing and coloring, there are few words I'd like to say about the good old chalk. I remember when I was growing up for June 1st (which in Socialist and ex-Socialist block is the International Children's Day) we had chalk drawing competition on the ground. It was so much fun! It was messy but easy to clean. The whole square would be covered in different drawings by children of various age.
Yesterday we went to a restaurant for dinner and my daughter discovered a blackboard and white chalk there. What a thrill she had! She was so excited to scribble with it and then use the duster to wipe it off!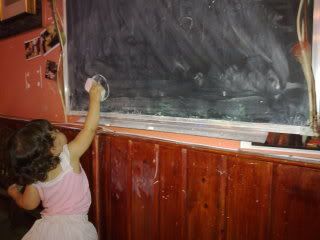 Later I came back home and did some reading on chalk in general. And here are some tips I want you to consider before you let your toddler play with it:
– If your child is asthmatic, it is very important to have a careful supervision. Chalk dust is a known irritant!
– It is safe to eat chalk! It contains a lot of calcium and has a neutral taste so many kids and adults like nibbling on plain white chalk
– It CAN be a choking hazard, so just watch out!
– While chalk is easy to shake off clothes, you might still want to consider dressing your child in "work" clothes
– Start with a medium piece of chalk – it easily breaks. One piece at a time.
– You can use a damp cloth to wipe the board as it absorbs the dust better.
I hope you enjoy the chalk fun time with your child! Below are some useful websites you might want to read.
Thank you for reading my blog!
Homemade Chalk , Simon in the Land of Chalk , Games with Chalk
Related Posts :