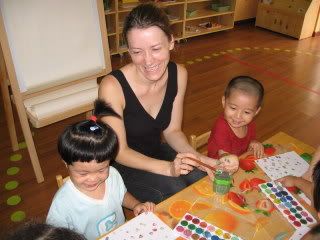 Being an English teacher doesn't only mean teaching the language. In my practice I have taught kids not only to learn the words but to feel them as well. In this case learning colors also helps tactile sensors and recognition. Finger-painting can be both fun at home and in a classroom! I can't wait to start finger-painting with my toddler who is already attempting to try painting her fingers with crayons and pencils!
You will need simple water paints (non-toxic), an apron for yourself and one for each child, a sheet of paper, some water and a few jar lids. There are two ways you can do it:
1. Add little water on paints themselves. Choose 2 colors at first and you can add a color or two each time. First you say the color, dip your finger into the paint and stamp it onto the paper. Repeat with an additional color. Have the child repeat after you and follow you in making stamps with finger dipped into the paint. You can vary by making a flower with prints. After making a few prints, have the child listen to you saying the color and repeat the whole procedure by him/herself.
2. Use a paint brush to apply the paints on the child's finger or palm and while repeating the color. Let the child make a finger/palm print. The rest you can do just as it is said above.
Trust me, the joy of getting hands dirty is beyond any description!
Tip: since children often forget themselves and wipe hands and fingers against their clothes, it won't hurt to have them wear something that you don't mind getting dirty!
Enjoy and thank you for reading my blog!
Related Posts :