I have been pondering to try playdough with my toddler for a while but I was delaying as I was hoping to find a safe version (aka non-toxic). Recently, a wonderful friend dedicated us a post on her blog on How to make homemade playdough . We are lacking a couple of ingredients in order to make it but we have recently tried the playdough that was given miss T as a birthday present.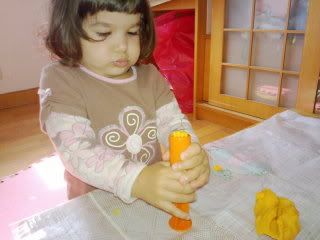 Few things I was reassured in again:
1. Always make sure the child and you wear clothes that you aren't afraid to get dirty.
2. Cover the surface with a piece of plastic (if possible) – regular playdough stains and is not always easy to get off the surface even if it dried.
3. Start with one piece at a time – it eases your cleaning job.
4. Don't leave kids under 4 unattended with playdough – even the non-toxic playdough consumed in big amounts (and in 99% of the time it WILL be consumed!) can cause some tummy problems.
Playdough is an amazing way for children to develop their motor skills (both gross and fine). It is a good way to help children with concentration and focus. It helps to have some extra tools like cookie forms to cut out shapes; may be a little plastic knife from your child's kitchen set or from food delivery.
Enjoy the play time and thank you for reading my blog!
Related Posts :