The art type I'm going to talk about is something I remember so clearly from my kindergarten days. I can still see the picture I made out of torn paper. We only did it twice but it was probably the most fun art project ever that's why nearly 30 years later I still have a vivid memory of it.
Tearing paper is one of the best activities for toddlers. When they grow and explore they attempt to tear everything that can be torn. As parents and educators I am sure you have been through those disappointed moments where you find your unread newspaper or a favorite book torn apart and quite often kids get scolded and punished for the fun they had! But this is a very different subject and my only advice here – don't leave things in your child's/student's reach. He/she WILL get to them!
So back to the torn paper art. It is simple, it is fun. All you need is a bigger piece of white paper, some color paper (they could be the left overs from other projects that you would normally throw away. I keep them all now and use for such projects!), and glue.
The project my daughter and I did is called "Mosaic Window".
1. First let the child tear up color paper into small pieces. Not too small though.
2. Using a glue stick have the child randomly glue the pieces on the white paper.
3. With bigger kids once the white paper is filled up and the glue dried up a bit, trace the pieces glued.
4. From another white piece of paper cut out kind of a frame and glue it on top of the mosaic. Let it dry a bit and then you can do what we did – display it on the wall 🙂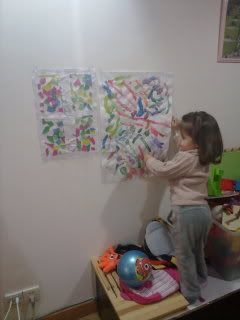 Few things you might want to consider when preparing for this activity:
1. Actually, the preparation is minimal. This activity can be done at any time.
2. Do in the area that is easy to clean.
3. Have your child wear some clothes you don't mind getting dirty. We use a special apron.
4. Supervise. Turning away for a moment can cause glue being all over the place, even in the mouth!
Enjoy your time and thank you for reading my blog!
Related Posts :